Meet Jason - co-proprietor of Vineyard 36 - a Napa Valley winery created by three friends with a mutual passion for friendship, wine and hockey. The story begins with Jason's first visit to Napa Valley and a private, guided tour with Dave Del Dotto himself. It was this particular wine experience that changed Jason's life and led to his first winery venture, Tobacco Roads Cellars. Eventually, he would befriend Cam and Tim - two professional hockey players in the NHL - who had a shared love and appreciation for wine. In this exclusive piece, Jason shares how these three came together to chase one shared dream - Vineyard 36 - and the stories behind the wine labels, UnMask and Cross Check.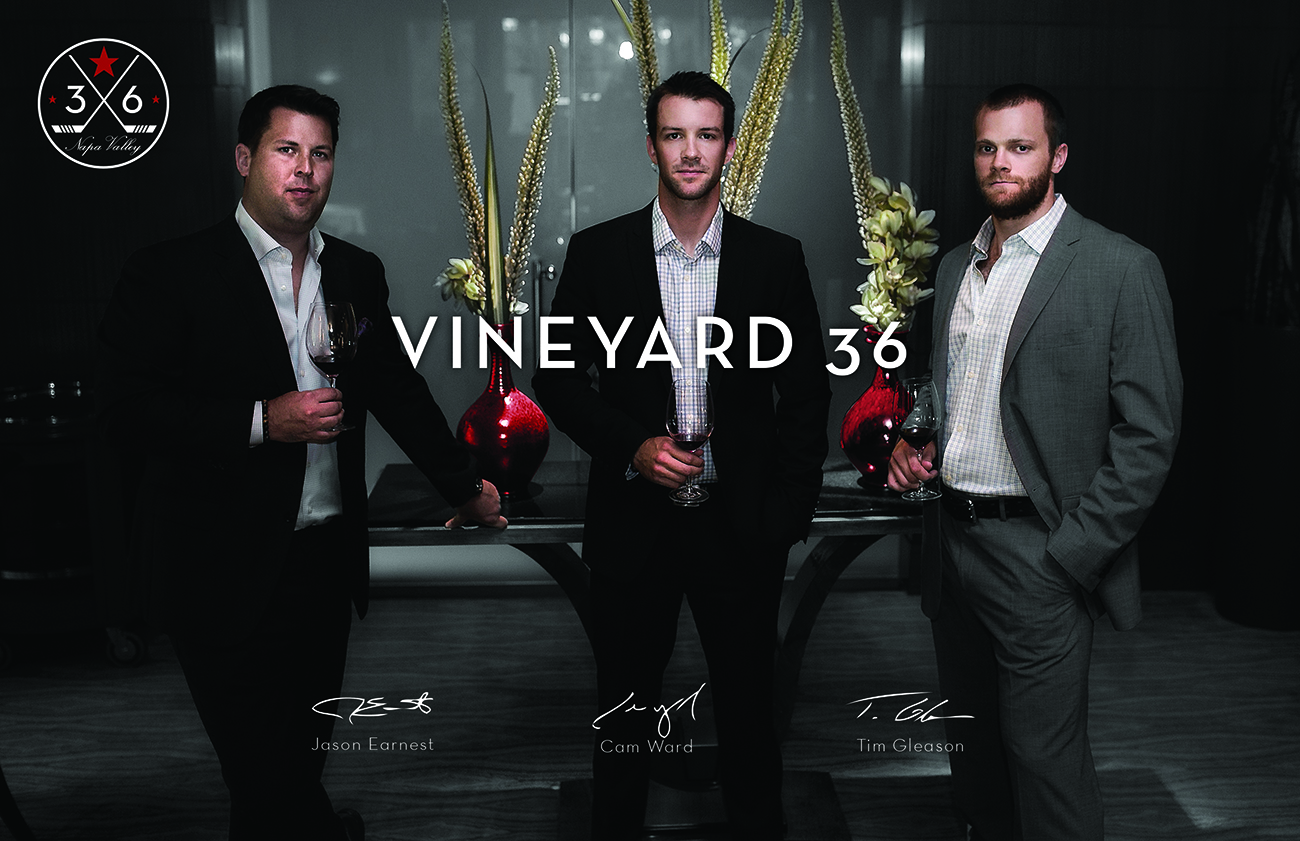 Vineyard 36 is the story of three friends living individual dreams, brought together by a mutual love and appreciation for wine. It begins with Jason Earnest's ownership in Tobacco Roads Cellars – a boutique winery located in Napa Valley named after the rivalry between Duke University and the University of North Carolina. Known for big, bold California Cabernets, Jason would often travel and host Tobacco Road wine dinners in restaurants across the US.
At one particular event in North Carolina, Jason met Cam Ward – a prominent professional hockey player for the Carolina Hurricanes – who quickly became one of Jason's best customers. The guys always managed to keep in touch, even after Jason sold his ownership in Tobacco Road Cellars and relocated to New York. During hockey season, anytime the Carolina Hurricanes came to town to play the New York Rangers, they met up for dinner with fellow teammate Tim Gleason.
Fast forward to one evening when the curiosity of owning a winery came up in conversation. This initial, wine fueled discussion lead to several others, and a decision was made to make 3 barrels of Cabernet. Jason, Tim and Cam shared creative input during the blending process; the wine went from barrels to bottles; labels were added and the stash was divvied for personal consumption between friends and family.
For the highly anticipated tasting of their inaugural release, Tim, Cam and Jason met in Fort Lauderdale on Jason's boat. They opened a bottle, hoped for the best and…were completely blown away at the gorgeous wine! Jason vividly recalls Tim's reaction: a big smile and a hope it wasn't going to be THIS good. All three agreed this was something special, so talks quickly turned into strategy and CANE Estate was born.
Since Tim and Cam both played for the Carolina Hurricanes, CANE Estate seemed to be the perfect name for the venture, especially in the Carolina market. But with dreams of expanding and creating a nationally recognized brand, they settled on Vineyard 36 – the summation of Cam Ward (#30) and Tim Gleason's (#6) jersey numbers.
From inception to present day, all three friends agree quality and passion are two of the most important factors when producing consistently balanced, beautiful wines. Each year, their fruit is sourced from boutique, privately owned Napa Valley properties, typically 10 acres or less. The wine labels – cleanly designed with a little edge – tell their own unique stories, especially the Cross-Check and UnMask blends. During one of the Carolina Hurricane games, Cam Ward went to visit the injured Tim Gleason in the locker room and snapped a photo to send to his family as reassurance he was well attended to. The captured image resurfaced when their Cross Check wine was ready to be labeled. Both Jason and Cam thought the photo perfectly matched the intensity of the wine, but it took some convincing on Tim's part. The only way he agreed to his personalized image on the bottle was if another blend captured Cam in action. You can find Vineyard36's ode to Cam on the goalie-inspired label, UnMask: a zinfandel based wine with Syrah and a secret grape varietal. To date, no one has been able to successfully guess the secret blend – but anyone who does will be offered a complimentary bottle!