"Wine Mic Monday" is a VAULT29 series based on an "open mic concept" where wineries take over our blog...because every glass and bottle of wine has a story. This week we are proud to feature Hardball Cellars, where a passion for wine, baseball and family combine for an unbeatable combo!
Hardball Cellars is a family business with a passion for baseball, business and wine. Currently our team produces small lots of cabernet sauvignon, chardonnay, merlot and pinot noir. Founded in 2012 at the encouragement from family and friends, we are working hard to grow our brand communicating our passions while making delicious wines. Mike and Cindy are transplants from Oregon and were raised by hard working families in the Willamette Valley. Mike's mother is an artistic antiquer and owned her own antique and import shop. His father was born to be a handyman and worked in industrial construction. Cindy's parents also owned their own hobby retail and wholesale business for many years. Mike and Cindy followed their family to Napa in the mid 1980's where they have planted roots and fallen in love with the northern California wine country.
THE COACHES THAT INFLUENCED OUR PASSION FOR WINE
We have a long family history of winemaking. Our parents and grandparents made wine for well over 50 years in Oregon as a hobby and grandmother Alberta Gearin would always have a crock pot brewing when we went to visit. Our parents tell us she made the most incredible dandelion wine. She would brew anything she could get her hands on, including fresh Oregon blackberries and even cabbage. Our grandfather Dewey Gearin was a military man. When he finished serving his time for our country, be became an inventor who patented a number of inventions. He is best known for the old gas station rubber hoses that rang to alert the service station attendants when driven over. He had an amazing sense of humor, and a serious palate for adult beverages and was always eager to drink Grandmas fixins.
Mike's mother and father followed in Alberta's footsteps, making blackberry, pear, and plum wine. They also enjoyed making homemade root beer with their children. Mike's dad to this day still loves to play around with fermenting the fruits on his farm in Oregon. He dreams of planting a pinot noir vineyard on his farm one day.
OUR ROOKIE YEARS
Our true passion for wine began to grow when we moved to Napa over twenty-five years ago. Spotting an ad in the Napa Register for some u-pick Zinfandel fruit on Glass Mountain Road, in Saint Helena, Mike grabbed garbage cans and took my kids along for the ride to the vineyard. The owner was a nice old guy who loved kids and sent us into the vineyard to harvest the fruit. He then destemmed our fruit back into our fermentors and off we went! Mike learned what about making wine by watching his parents, reading books, watching videos, and networking in the wine country for many years. He still remembers the smell new wine in our garage like yesterday. After many batches in our 5 gallon carboys over the years, some good, some not so good, learning by trial and error, we knew one day that we would have our own wine.
As Mike and Cindy's kids grew up we had the opportunity to traveled around the country for dance competitions with their daughter all over California, with trips to Disney World in Florida , and baseball trips all over the country with their son. They experienced many wine tasting adventures between events and games wherever they traveled and began developing their palates by tasting wine from various regions. Baseball and wine soon became one of our favorite pairings. Summer baseball paired with Northwest wines like zinfandel in Roseburg Oregon, chardonnay by Wölffer Estate in the Hamptons (Long Island, New York), and college regular season games paired with the wines of the central coast (between Cal Poly San Luis Obispo and UC Santa Barbara).
OUR GAME PLAN
After our son Jason's baseball career came to an end due after injuring his throwing elbow, he soon graduated from Santa Clara with a degree in marketing. As a family we then decided that we wanted to take our passion for wine and baseball to the next level. Our friend Cynthia Cosco, who we met through social media circles several years ago, played a key role helping us get our start. After many conversations with Cynthia we mentioned that if she ever came across any fruit for purchase, we would buy to make a barrel of wine. One day, relatively quick, we received a call from Cynthia telling us that she found fruit. After much debate, we decided it was time to begin our journey. Later during the process of bottling our wine with Cynthia, she mentioned "now all you need is a name!" We began brainstorming by scribbling on paper and drawing logo concepts. One day while Mike was driving, Hardball Cellars popped into his head and after relaying his idea to his teammates, we knew it needed to be our brand name. It represents exactly who we are, and what we have a serious passion for! Baseball…business and wine!
Over the years while making very small batches of wine, we have learned that it's a specialized craft which has science behind it. However, you need to be able to let your god given senses guide you through the process. Our vision is to remain a small boutique vintner, while continuing to produce high quality wines that meet our high standards. We have released 4 vintages to date and have sold out of the first pinot noir, cabernet sauvignon and chardonnay vintages since we began. We feel with our winemaking experience and extensive travels tasting wines all over the United States. We are confident that with our combined palates along with coaching from our mentor Cynthia Cosco, we have the skills to make and market delicious wines.
We are now a fully bonded winery as of July 2013, and we are now producing our wines at Dogpatch Wines Works a Custom Crush facility located at 2455 3rd Street, San Francisco CA 94107. Approximately 9 blocks from AT&T Park. Our wines are available for tasting at Dogpatch Wine Works and available online at www.hardballcellars.com.
We have worked hard to locate the finest quality fruit and have developed relationships with our growers to create world class, small lot wines. Our growers are located all over northern California and have helped us produce our Chardonnay, Pinot Noir, Merlot and soon to be released Cabernet Sauvignon. We continue to network and scout new varietals and vineyards as we move forward. We make wines that we like to drink...big and bold, complex in color, aroma and flavors. As Hardball Cellars, we evoke a high level of work ethic, quality and execution.
THE X AND O'S OF OUR WINEMAKING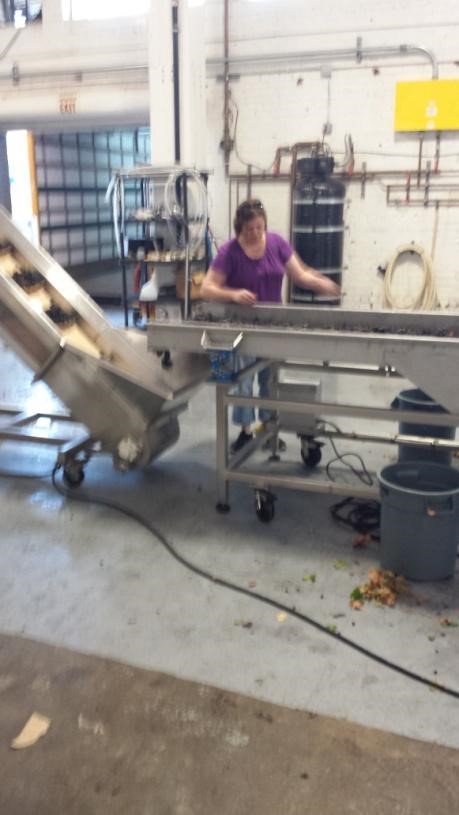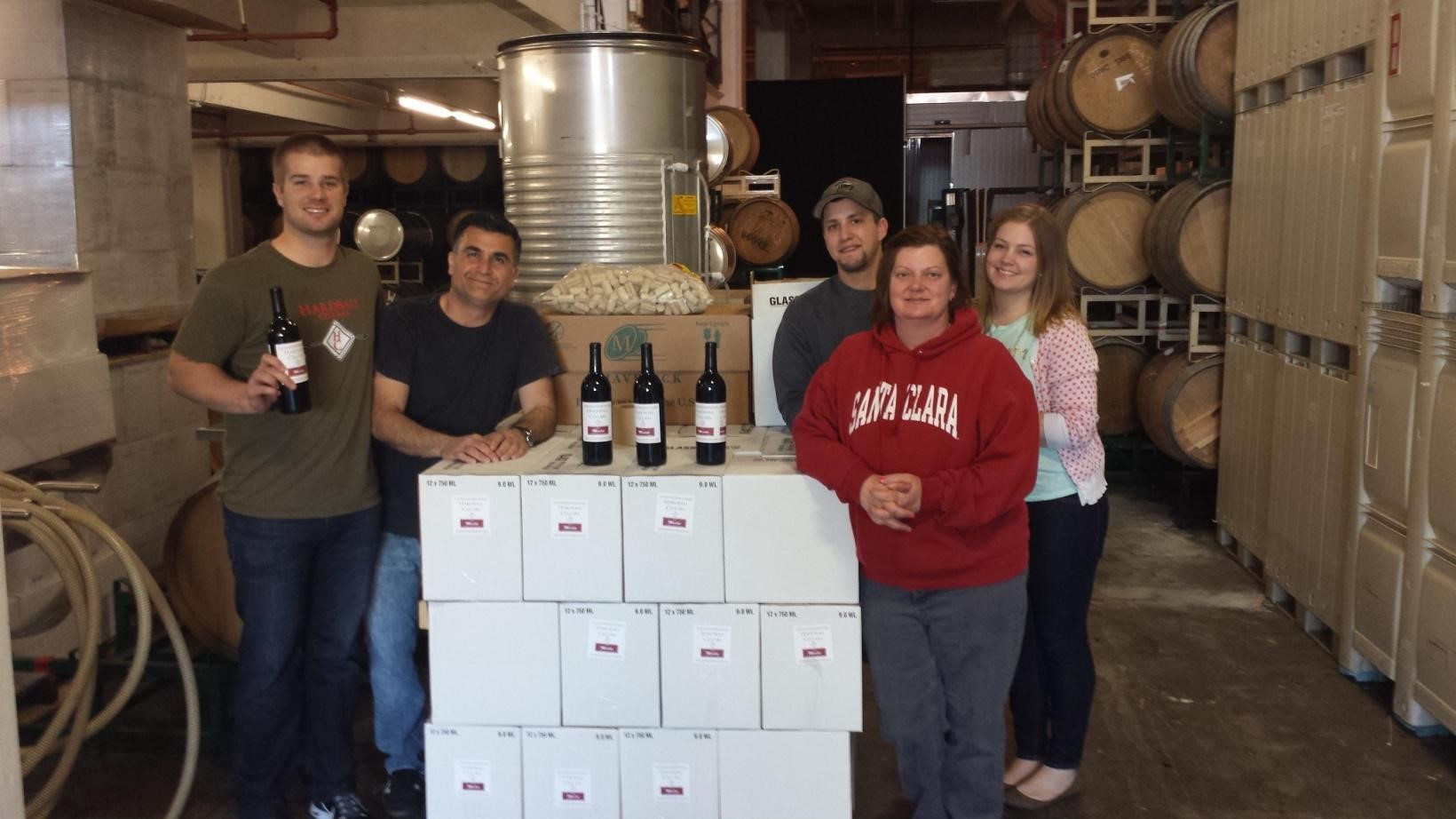 We are hands on through the entire process, and strongly believe in minimalist techniques. We get out into the vineyards during the year, hand picking the highest quality fruit, hand sorting the fruit as it comes in from the vineyards, carefully removing the low quality clusters that may have trickled in, any leaves, and anything else we see that might jeopardize our quality standards. We ferment our lots in our one ton micro bins, which allows us to control the temperature during fermentation. We perform daily manual punch downs, record daily brix and temperature readings through the fermentation process. Careful handling of our fruit and cap management are key fundamentals during the fermentation process in order to extract the highest quality colors, aromas, and flavors. We age our wines in oak barrels and continue to hone our process, techniques and plans. We have most recently utilized older neutral barrels, which we had reconditioned to expose new oak, knowing that this is eco friendly. We continue to learn so that we can strategize and refine our techniques to get the most out of our fruit and resources.
FIVE TOOL PLAYER
We are a 5 tool player offering our wines through our website, special event around the country, our wine club with special wine club offerings, a tasting room in San Francisco at Dogpatch Wineworks, and at private tastings where our wine club members, family and friends host us!
Our current wines consist of a (soon to be released) 2012 Napa cabernet sauvignon, 2013 Alexander Valley pinot noir, 2012 Los Carneros merlot, and our 2013 chardonnay. We are hard at work training for the 2015 harvest and look forward to bringing in our Napa cabernet sauvignon, merlot, pinot noir and chardonnay. We cannot wait to bottle these wines and offer them to our followers through our website, the Dogpatch Wine Works tasting room, and in local wine shops and restaurants.
Our wine club is called "The Hardball Club." There is no sign up fee or cost to join. By signing up, you commit to receiving two bottles, three times a year (February, May and October). Our skipper developed The Hardball Club as a simple affordable way to be a part of the Hardball Cellars team. Shipments can be mixed or matched at this time. We only bill at the time of shipment for the cost of your wine, tax and shipping. You receive many benefits as a member such as invitations to all private wine club events, early access to all new wines and a 20% discount with every purchase! and our quarterly Newsletter including recipes, winery news, and all things Hardball. We are preparing to send our first shipment of the year, just in time for 2015 Spring Training. In other news, we have also been invited to Spring Training to pour for San Francisco Giants season ticket holders. Follow us on our social media channels or blog on our website to see how it goes!
We will be emailing special offerings as we release our new wine, so get on our email list, and make sure to connect with us on Facebook. We want to thank all of our friends and family who have all been so supportive and encouraging as we have worked hard to bring Hardball Cellars to life. We hope you will join us and help spread the word about Hardball Cellars as we continue to grow.