Frey Vineyards is America's Pioneering Organic Winery. Founded in 1980, we have always been family owned and operated and it is our mission to produce highest quality organic and Biodynamic wines without the addition of synthetic chemicals or preservatives while fostering environmental stewardship and social equity. Our vineyards are located at the headwaters of the Russian River in beautiful Mendocino County in Northern California. As three generations of organic farmers and winemakers, we find that our care and respect for the earth is reflected in the expression of purity and true terroir in our wines.
Drs. Paul and Beba Frey moved to Redwood Valley in 1962 to raise their growing family and live closer to the land. They had twelve children who were put to work on the farm. The first vineyards were planted in the early 1970s when grape cultivation was expanding with the growth of the California wine industry. For the first few years the family sold the grapes, but in 1980 Jonathan Frey and his brothers and wife started making wine. Jonathan and Katrina had just returned to Redwood Valley after an organic gardening apprenticeship and were deeply committed to chemical-free agriculture and food production. The choice to make wines without added sulfites was a philosophical one and has guided the vision and mission of the business ever since.
Frey Vineyards is an innovator in organic and non-sulfited wines and our winemakers have been self-taught and passionate about preservative-free winemaking. We let the distinctive character of each of our wines shine, without adding synthetic sulfites as a preservative. Our innovative winemaking techniques and minimal manipulation allow the natural fermentation process to occur without chemical additives. The authentic flavors of the wine are showcased for the enjoyment of all wine-lovers, including those with sulfite sensitivities. We use only bentonite clay, a natural earth clay, as a fining agent, and we ferment in stainless steel without the risk of cross-contamination with wheat paste in barrels, making our wines suitable for people who are vegan or gluten intolerant. All of our organic wines are fermented on non-GMO certified organic yeast. Our Biodynamic portfolio is fermented with only the native yeast occurring naturally on the grape skins, allowing the terroir of each site and vintage to come through.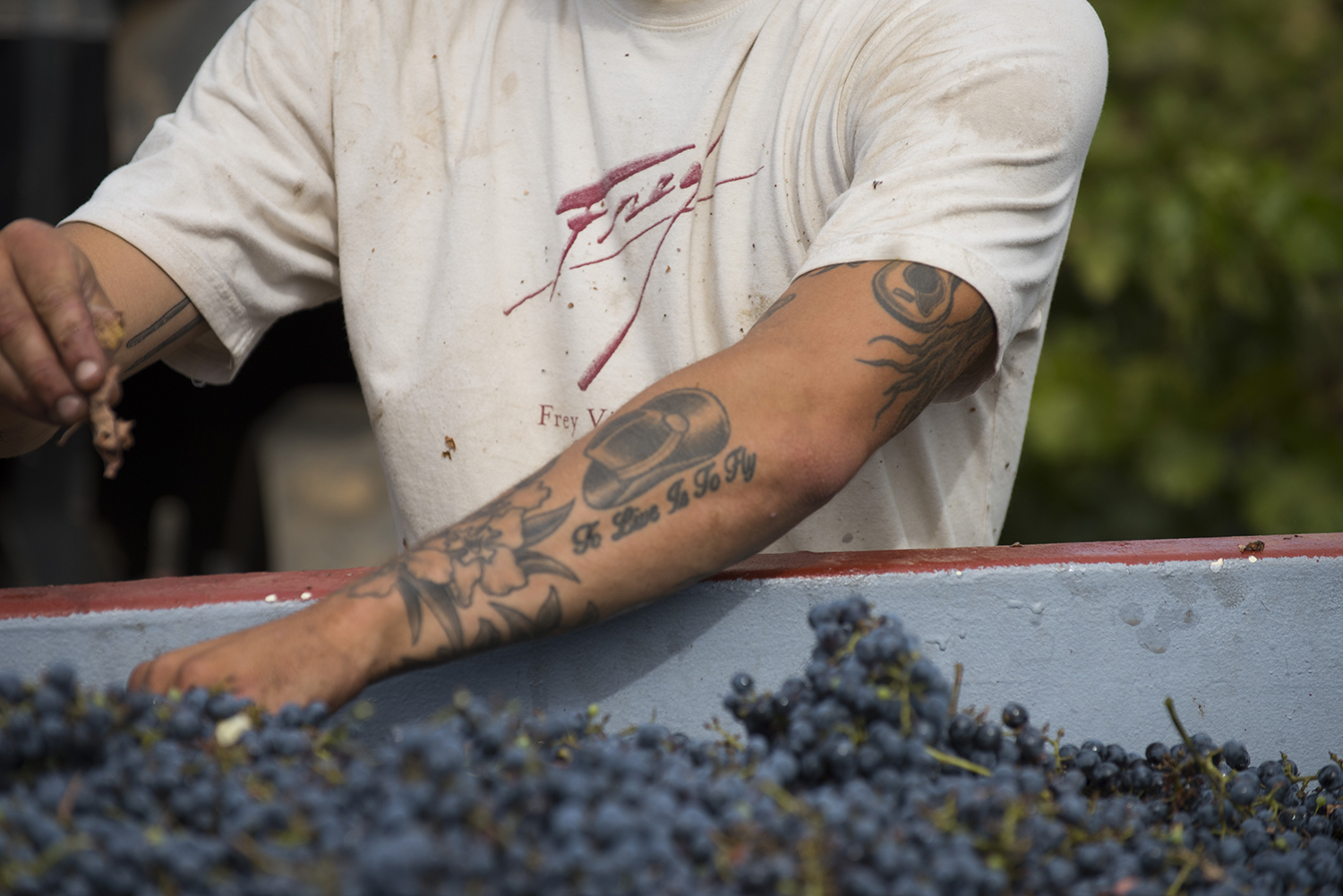 Our Biodynamic wines offer a taste of intensive organic farming practices and estate-grown grapes. Biodynamic farming views nature as an interconnected whole, and as stewards of our land we work to integrate crops, farm animals, and soil health into a self-regulating and self-renewing ecosystem. Developed in the 1920's by Rudolf Steiner as a response to the pesticide-laden factory farming methods of the time, Biodynamic farming accomplishes a holistic approach to caring for the land without the use of toxic chemicals. In our current era of climate change and water-use challenges, we see Biodynamic farming as a resilient and adaptive agriculture for the future. Some of the methods we employ to craft our Demeter-certified Biodynamic wines are:
,Pasturing our goats, cows, and chickens through the vineyards to feast on cover crops and manage pest populations
Setting aside 750 of our 1,000 acres for forest wildlife and biodiversity
Making the nine required Biodynamic preparations onsite and applying them to our vines and soils in diluted amounts to promote photosynthesis, stimulate root growth, and enliven soils
Today's wine market has lots of wines made from organically grown grapes, but we don't stop halfway with the grape growing.
Wines made from organic fruit that are not processor-certified are restricted to use the term "Made with Organically Grown Grapes." For consumers seeking a 100 percent, start-to-finish certified organic wine it is important to recognize this distinction and seek out processor-certified organic wines with the USDA Organic seal. Into the future, we want to continue providing delicious and natural wines for people looking for organic beverage options. We are firmly grounded in our commitment to organic growing and processing practices, and to live and produce as sustainably as possible with the land we are blessed to cultivate and protect. We will continue to offer customers fabulous organic wines while enhancing the health of our farm and communities.
Frey Vineyards' award winning wines can be found across the country in fine wine shops and grocery stores. We are carried in Whole Foods stores across the country. We ship direct to consumers in most states, and we have a fun wine club with great discounts and many yearly events. We have two tasting room locations:
We'd love to see your Frey wine experiences in the VAULT29 app! Use hashtag #FreyWines!